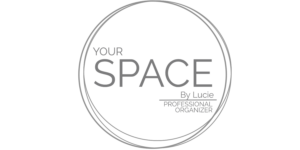 Do I have to be present while you work at my house?
Yes. All the work is done together with a client (and/or spouse). That way we ensure, that we're moving according to your needs and wishes. I will be likely to leave you with homework, so you can also work in your own time in between sessions and lower the project costs.


What happens during the sessions?
We will assess your needs, your stuff, space, and habits to develop an organizational system that works for you. Then we do everything to accomplish that vision: decluttering, organizing, discussing, planning, adjusting furniture, shuffling stuff around, disposing of donations, etc.


How long are the sessions?
The sessions are as long as needed, and that differs from client to client. We start in the morning when you are fresh, and work for as long as we stay productive. A typical session takes between 5-6hrs which also includes breaks. I only schedule one client per day, to attend to his/her needs fully, and with flexibility.


Do we take breaks?
Absolutely! I care for efficiency, so if I see we're running low on physical or mental energy, we take short breaks to recharge. For sessions that are longer than five hours, we will take a proper lunch break too.


What if my kids are at home?
I love kids and don't mind them around. Just be mindful of the time and focus they might take away from the project. I'd advise getting help from your family or a nanny, so you can get the most out of our sessions. Very often I work with one parent while the other one stays around the house and cares for the kids. I will never be mad if you take breaks to give your kids some love during the process.


I have pets. Is that a problem?
I love pets and have no allergies, so that's totally fine. In case your pet is aggressive and potentially harmful, I take the right to leave our session.


What do I need to prepare?
Try to have a good sleep the night before and don't plan any important events on the day of our sessions. Decluttering is perhaps more taxing for the brain than you can imagine. Have enough drinking liquids at hand, and perhaps something sweet to recharge. Apart from that, there's not much we need for our first session. If there's anything particular, we'll communicate that individually during our consultation. I provide most small organizing supplies, that are included in your costs.


I feel embarrassed for my mess
I understand that but don't worry, you're not alone! Professional organizers see all sorts of things and it's our code of conduct not to judge. We'll handle your situation with care and understanding and won't talk about what happens in our sessions with a third party.


Will you take photos of my house?
I love "before and after" pictures and sharing them with you. It really helps to see your own progress. If I see some photos fit for my portfolio (it doesn't carry any identity information and shows the nature of my work), I'd love to share them on my social media. If you're uncomfortable with that, just let me know and I will fully respect your wish.


Will you throw my stuff away?
Not at all. You don't have to worry, that I will discard something without your permission. I will also never force you to get rid of stuff. I am here to help you ask the right questions while decluttering, offer insights about the potential root of our problem, and teach you how to let go if you find that difficult. However, all decision making is done by you, and we make sure we clearly separate what is the "keep" and the "let go" pile to prevent any accidents.


What do you do while I do all the decision making?
While you are making decisions about what to keep, and what to let go of, I am busy planning, shuffling things around, categorizing, or developing and implementing systems for the stuff you keep. I am always near to talk to you, coach you, share my insights, and assist you if I see you get stuff. But I am always moving- I am there to develop a solid plan and system, that will make your decision making easier, faster, and you'll have more brainpower to do it all.

What happens with the stuff we declutter?
I care for the environment, so we always recycle what's possible. All stuff, that's still in good condition is then distributed to places of good use. I pride myself to be connected with charities, so your giveaways can improve the lives of those who need them!


Will you clean my house?
Professional organizers are not cleaners. However, organizing your space is a great opportunity to dust off! I don't mind helping you with that if that's the best use of our time. It's all about working together in the most efficient way and towards our goal.


Can you shop for stuff?
Yes. If you need specific supplies/small furniture for your project and don't have the time to get it, you can ask me to buy it. I am fine paying beforehand for some smaller accessories we might need for the project. Those costs are then reimbursed in cash or via Tikkie/payment link. The time I spend shopping for you is calculated as "off-site work" costs and added to your invoice.


How do I know my house stays organized after you leave?
There's no guarantee, that things will stay exactly the same forever. However, decluttering is a very self-confronting process. As you go through all your stuff, you'll uncover the roots of your disorganization. Being aware of the cause should make you behave differently in the future, and many times, it's little details that make the difference.

I'll coach and educate you on various subjects, to prevent clutter from revisiting you again. And I must say, that many of my clients are still happy, organized, and more aware of their relationship to stuff, months after our final session. In case you feel like you still need some maintenance sessions, you'll receive a 15% discount on our future work.


I need to cancel/reschedule our session.
I am flexible with rescheduling, especially regarding any COVID19 symptoms. However, my schedule is often full, so please only do that if necessary. Cancellations of the whole project in less than a week from its beginning will result in no deposit refund.


Do you have COVID19 precautions in place?
I am personally careful myself, monitoring for any symptoms. If I detect anything, I reschedule our sessions. The same goes for my clients, so we always communicate about our health just before we start a session. No hands shaking and increased hygiene is a standard. I also care to keep recommended distance if possible and wear a mask throughout the whole session.