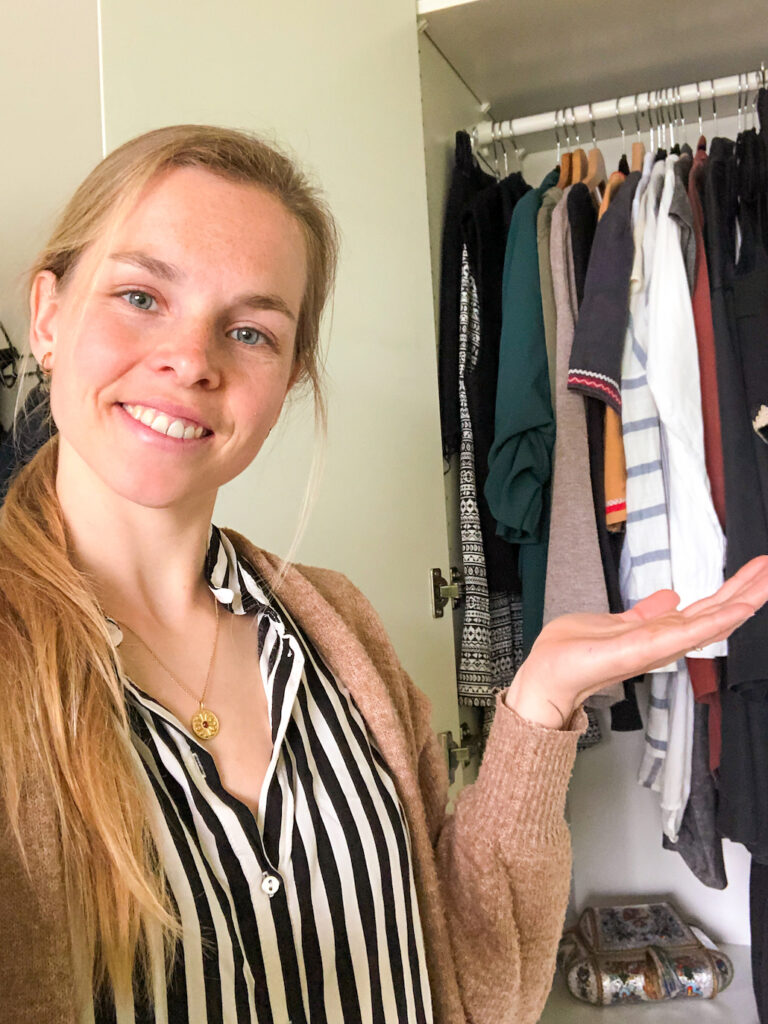 I just did my seasonal wardrobe switch yesterday. It took me about 90mins to go through most of my clothing, part with the pieces that didn't spark joy, and reunite with pieces I hadn't seen for months.

I had a fresh wave of excitement and inspiration this morning when I got dressed! All those pieces I hadn't seen were appreciated again, and now I can't wait to get dressed each morning!

Originally, my seasonal clothing switch was a space-saving strategy. Now, after four years, I found multiple psychological benefits to it!
THE 4 REASONS WHY YOU SHOULD SWITCH YOUR CLOTHING SEASONALLY:
A SPACE-SAVING SOLUTION

It started as a space-saving solution as I have a relatively small wardrobe: 50cm of hanging rod and five drawers for the rest of the folded clothing + some accessory space. I am not crazy about following fashion trends, but I like to feel good and have fun in what I wear, and I generally love clothing.

To fit 100% of my clothes in my wardrobe would be impossible! Yes, I could buy a bigger wardrobe, but why would I infringe on my living space to store something I don't wear?



Rotating between seasons reduces about 40% of my wardrobe

, making it more spacious and airy, with better visibility. There's no fighting in trying to "stuff" things where they don't want to fit. The whole clothing process is just much more pleasant.


LESS IS MORE – CLARITY AND EFFICIENCY

Beyond the physical, there're great mental benefits.

Each time we choose what to wear, we are decision-making. To make a decision, we need to go through our options. And the more options we have, the more mental effort it takes. Not only consciously, but also subconsciously: When standing in front of your wardrobe, you'll automatically block half of the stuff that isn't season-appropriate. All the blocking of unnecessary stuff still takes mental energy!

The less you have in your wardrobe, the faster and more efficiently you can make your morning decisions. By pre-choosing (in this case, removing all that's not appropriate during the switch) you've already saved yourself some mental capacity!

Of course, it's up to everyone to figure out the right amount of clothing that keeps one and yet not overwhelmed.


THE OLD IS THE NEW

The novelty and excitement are possibly the best part of this whole thing. When something hangs in your wardrobe all year, I can understand that it "gets old," and you're gradually less excited about it. We crave novelty – we notice novelty better – so the feeling that you want to go shopping cause there're no exciting combinations to wear is real.

When you limit yourself to fewer options for a certain period of time, it forces you to be more creative with the options you do have. Once you get bored of your current wardrobe style, you can look forward to soon switch. The old/new pieces you bring in during the switch are suddenly much more exciting, appreciated, and worn. Your passion for fashion is rekindled. In my opinion, the simplest economic and ecological fashion crisis solution!


REGULAR DECLUTTERING CHECK

As a passionate and professional declutterer, I believe this is the simplest way to keep your wardrobe in check for unnecessary clutter. Most of my clients that called in for wardrobe remakes didn't have the habit of regular decluttering. Thus as a part of our maintenance strategies, we advise decluttering your clothing 1-4x a year (depending on the frequency of clothing influx).

Making the seasonal switch is the best opportunity for decluttering. Not only because you're handling all the items individually but also because of the mental clarity this process brings!

Because of the smaller number of items each season, I have a better overview of what I haven't worn. At the beginning of winter, when setting up my winter wardrobe, I was convincing myself to use this long-sleeve lounge t-shirt. And yet, it sat precisely in the same spot untouched for the whole season. This time, I had no doubts about the lost purpose of it, and I decluttered it.


DISTANCE AND OBJECTIVITY

Similarly, with the upcoming season pile I get much more clear on my thoughts and emotions. I notice the internal excitement and inspiration when pulling some pieces and the disappointment that comes over me when unpacking others. Sometimes I couldn't believe why I held onto an item the last time around!

Here's what I observed: Sometimes, we're simply not ready to part with certain pieces even though we don't wear them, or they aren't even that sentimental. It could just be that we're so used to having them in our wardrobe that we can't imagine parting with them.

Not seeing certain pieces of clothing for a period of time allows for much more objectivity in how we feel. It allows us to check in with ourselves at the point of life we're in. And I found that it makes the decluttering process way easier!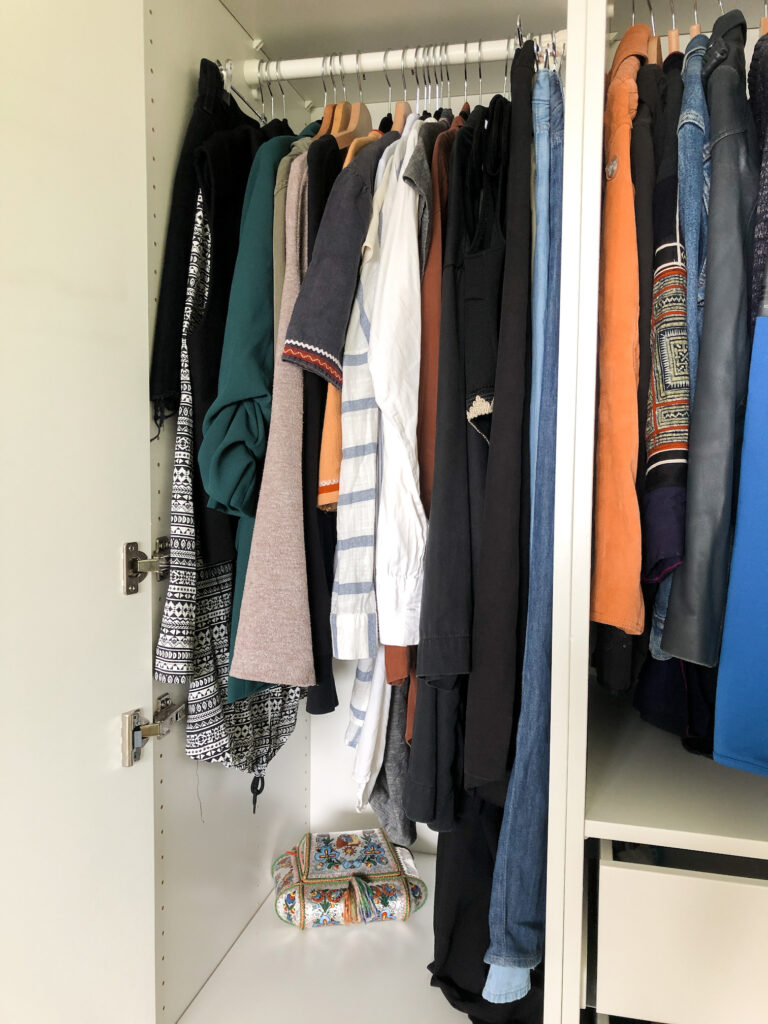 COULD A SEASONAL SWITCH NOT BE FOR YOU? THE 3 CASES IT ISN'T NECESSARY
If something has pros, they're likely to be cons as well. Do I establish a seasonal switch in 100% of my clients' houses? NO. So for objectivity, I'd like to add when and why I don't set up people's wardrobes to switch seasons.

For any of the below cases, even though you don't shift your clothing seasonally, I would still recommend decluttering your wardrobe 1-2x a year!

1. YOU HAVE PLENTY OF SPACE

If you have a walk-in closet, a huge wardrobe, and no shortage of space, go ahead and save yourself the work by skipping the switch.

I advise establishing a part of the wardrobe for the cold months' clothing and part of the wardrobe for warm months' clothing. Using a part of the wardrobe for a given season, you can still experience the mental benefits: Not having to block tons of unused and irrelevant stuff, appreciating novelty, etc. You can work with sides of the wardrobe or different levels (the out season higher up or less accessible).


2. YOU ARE HIGHLY DISORGANIZED

When we work with anyone who is chronically disorganized, be it because of neurodiversity, chronic fatigue, or difficult life situations, it's better to keep things as simple as possible! Adding a switch to one's calendar might be too much to ask – and there's absolutely no shame in that!

In highly or chronically disorganized households, we aim to simplify. Both in quantity (decluttering) and difficulty (organization). We ensure the space is big enough to hold the content most simply – avoiding any fiddly or perfectionistic strategies for organization.


3. YOU DON'T CARE ABOUT FASHION OR CLOTHING

Maybe fashion isn't your thing. You like to keep things practical, shop only when necessary, and have a modest and simple way of dealing with your clothing. You don't get the sense of needing novelty or any real excitement from the pieces you own.

That's fine! In such a case, you probably don't need to think of regular decluttering. Establishing a simple system that doesn't take more than it gives is the way to go.

Don't forget organization is relative to each individual, and we all have different needs! I switch and declutter my clothing 3x a year as I get super excited about wearing the new season. On the other hand, my partner has a year-long minimal wardrobe and only gets rid of things when they break. 😉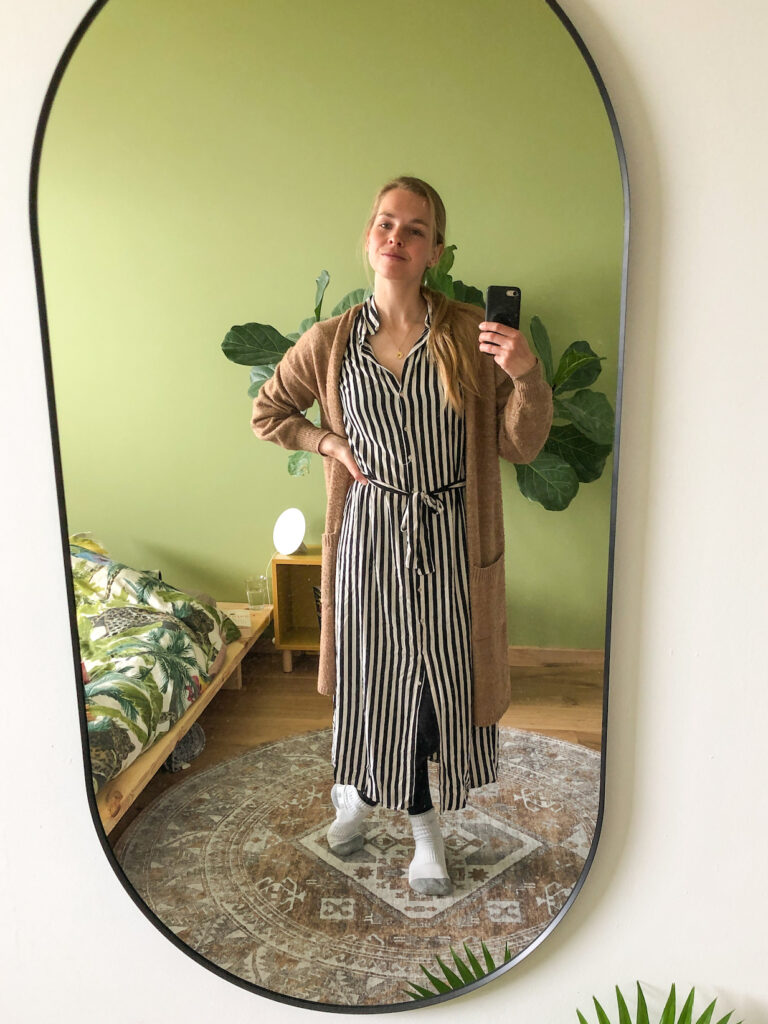 This part of the article covered the big WHY of doing a seasonal clothing switch. If you think this is something for you, in the upcoming article (next week), I will cover the WHEN and the HOW of the process so you can do it yourself!

Do you need more PERSONALIZED TIPS AND SOLUTIONS FOR YOUR PARTICULAR SITUATION?

I offer virtual organizing sessions via 1:1 online consulting!
Check it out if you want tailored strategies, personalized guidance, accountability, and more to aid your home-organizing projects from closets to garages!