Today I brought my last suitcase (I mean the second one) to the basement with freshly washed winter coats. It is the last week of May, which marks your last chance to prepare and switch your wardrobe for the summer season. Well….of course, only if it is for you! What are the benefits of that, and in what situations does it not make sense? Read my previous article to find out.
Now, if you know that a seasonal clothing switch is something for you because you wish to save space or renew your excitement for your clothing, it helps if you are clear on what to do each time.
I always start switching in May, as I can finally be sure it won't start randomly snowing (Dutch weather can be very unpredictable), and then back around October. Although this time, I experiment with a "spring collection" to see how that goes.
Follow these six simple steps, and try beating my 90mins switch time. I look forward to reading how long it took you in the comments.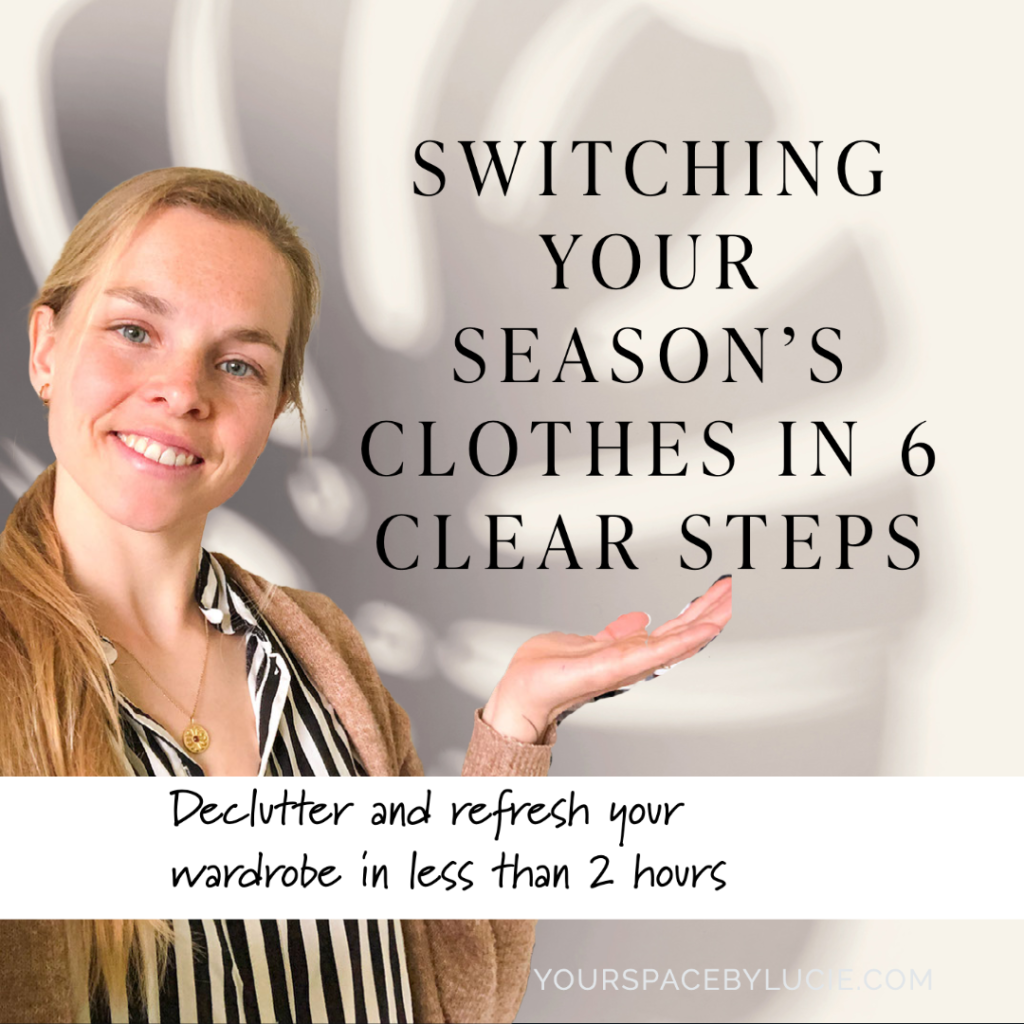 ---
Clear space (on your bed)
Begin by creating a designated area where you can sort through your clothing. This will help you stay organized and focused throughout the process. Have some sturdy shopping bags ready for donations and your hamper nearby.

Sort and decide
Bring out each piece of clothing, one by one, and go through the decision-making process, which divides them into four distinct piles:

Pile 1: Store away winter items: Place all the clothing that belongs to the current winter season in this pile.
Pile 2: Declutter and let go: Place the clothes that you no longer want or need in this pile – right into the donation bag!
Pile 3: Stay for the following season: Some items such as basic t-shirts fit any season. If you wish to keep some items in your wardrobe for the next season, place them into a distinct pile on the bed.
Pile 4: Sentimental items: Set aside any sentimental pieces that don't quite fit into the other piles.


Time to dust off!
Take advantage of the empty space and give your wardrobe a quick clean. Dust off the shelves, vacuum the drawers and ensure everything is fresh and ready for the new season.

Welcome the new season in
Open your new season storage—whether it's a box, bag, or suitcase—and carefully go through each piece of clothing again, repeating the decision-making process:

Put in the wardrobe what's ready to be worn in the new season (in this case spring/summer).
Declutter any items that no longer bring you joy by adding them to your donation bag.
If you experiment with multiple seasons, some pieces might still stay in for a couple more months
Look for any pieces that need ironing and put them in a separate pile.


Review the stay items from the previous season
So that is the pile nr. 3 that you chose to keep in your wardrobe. Is it still relevant, now, that your have pulled out your new season's favorites? Sometimes I wish to keep certain pieces from the old season in the new one, only to realize that after doing step 4, I am no longer excited about it = This step allows you to reconsider those pieces in light of your new choices, ensuring that you're not keeping what you won't use in the coming season.

Pack away the old-season clothing
Gather all the clothing from the previous season (pile 1 and reviewed pile 3), and pack them in a box or suitcase. I know, not all items may be washed and ready to be stored, and some are in the laundry process at the moment. Just take the time over the next week or two to wash or dry clean your coats, wool sweaters, and any remaining winter pieces. In my case, I will have 1 suitcase ready right away, while the second one stays around as I am slowly filling it in after each wash.

Store and look forward
Finally, bring your old-season suitcase to a basement or storage area, eagerly anticipating the day when you'll open it again in a few months' time. 🙂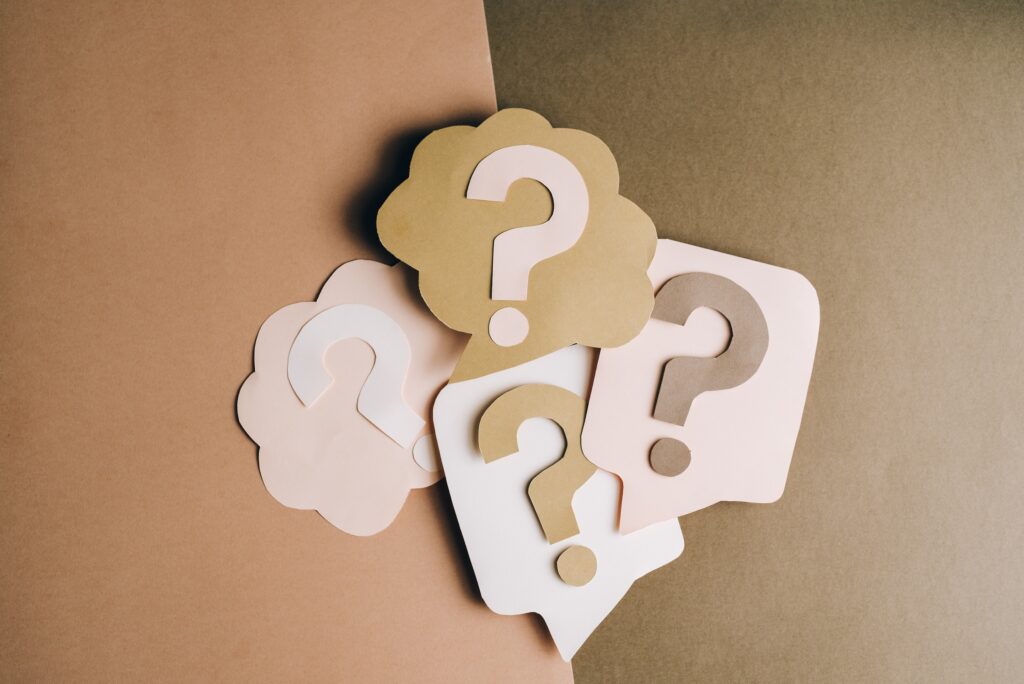 Do you have more questions than answers? You might ask "What do I do with the sentimental items pile?", "Where and how do I donate my old clothing?" or "How do I start organizing my clothing switch if this is my first time?" Don't worry, I got you covered. Let's have a look at what I do…
"How do you establish a seasonal clothing switch system from the start?"
You will still go through most of the steps above, leaving out 4 and 5 (since you don't have these established yet). Obviously, the quantity of stuff will be bigger, so you might need to prepare more space, and more donation bags, and it's good to start with some temporary crates or boxes, to begin with to make clear distinctions between the categories.
Notice that I do not encourage you to run to the shop for boxes or bags right away. Why? Because you ALWAYS want to declutter and sort first. Only then, when clear on the quantity, shapes, and size of the piles you need to store, as well as the space available, can you go and purchase new storage organizers (this time, the ones you exactly need!)
Now modify step 2, "Sort and Decide". You'll still have your declutter pile and your sentimental pile, plus all the season piles you wish to establish (be it 2 for the summer/winter switch or 4 for all seasons). The next season's pile returns to the closet, and the other ones get packed.
This switch should vacant a great deal of space in your wardrobe which might offer you some top shelves to use as seasonal storage. Search your home or closet for the most suitable space to store your seasonal clothing. Then find, repurpose, or buy your organizers that tick both requirements: the space available + the quantity needed to store. I have repurposed 2 big travel suitcases that I rarely use. Before moving to my new home, I used to have them on top of my wardrobe. These days I store them in the basement.
"What do you do with the sentimental pile?"
I understand that some pieces are clear-cut sentimentals! Even as a decluttering professional, I have my weak spots. Such as the dress my mum made as a teenager, the great-grandma's hand-made sweater, or some tailored pieces I got when I lived in Asia. I don't suppose I will wear any of these any time soon/ever, but it is too close to my heart to let those go.
I keep a small zipper organizer dedicated to this category and simply allow myself to keep those treasures. Together with those sentimental pieces, I also store the very occasional dresses, costumes, or anything used about once a year. This zipper bag is kept at the top shelf of my closet, easily pulled out for those occasional days.
"What to do with decluttered clothing?"

I personally organize clothing swaps with a big group of friends. It happens 2-3 times a year, and after a 2-year tradition, we all look forward to it! There's nothing better than seeing your friends appreciate your pre-loved pieces! Many times each of us gets the perfect exciting pieces we were looking for – all for free and sustainable! Those events are win-Win-WIN!
What remains out of the clothing exchange is donated to charity either directly or via the textile containers. You can also try selling your clothing if it's worth your time and money. There are many ways to dispose of your clothing! Read my old article on "How to dispose of textiles in the Netherlands" or get our Clutter Disposal Manual – a resource for disposing of, re-selling, or re-cycling just about anything in the Netherlands!
Do you need more PERSONALIZED TIPS AND SOLUTIONS FOR YOUR PARTICULAR SITUATION?

I offer virtual organizing sessions via 1:1 online consulting!
Check it out if you want tailored strategies, personalized guidance, accountability, and more to aid your home-organizing projects from closets to garages!