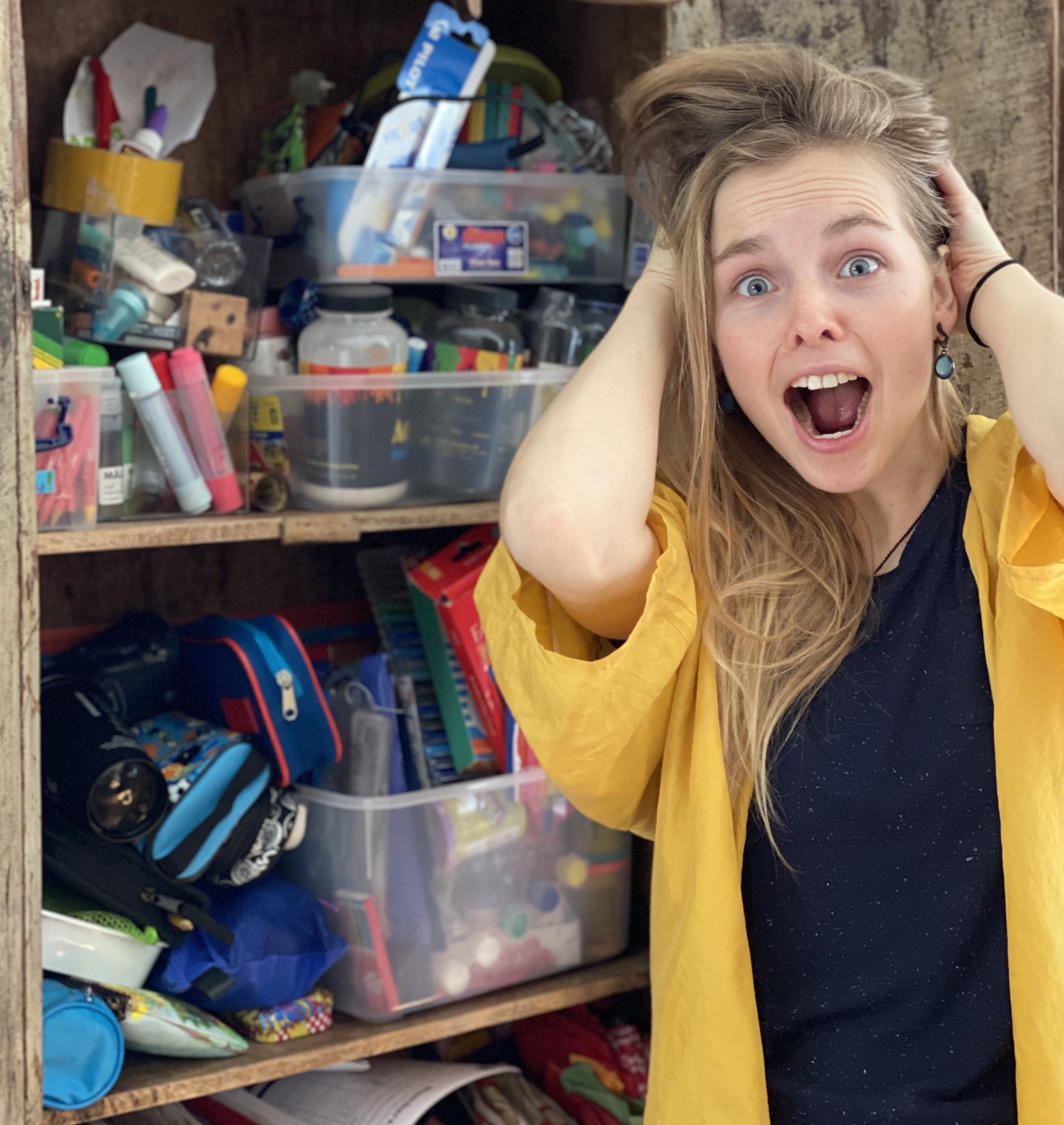 Previous to my organizing career, I worked as an au-pair for one family for four years. Living in big houses with big playrooms, we had an abundance of toys to play with, an ever-growing collection that was harder and harder to tame. It took me an hour to tidy up after playtime!
I knew it was important to educate the kids on how to tidy up after themselves and let go of old toys they no longer played with. But there would be no decluttering – every piece of plastic seemed important to them.
We moved houses almost every year, which seemed like the best opportunity to eliminate some overflow. With each new playroom, I tried different strategies of working with (or without) the kids to keep their room tidy.
After our 4th move to our 4th house, with a playroom size one-fifth of the first one, it looked like I figured it out. With 1/5 of the original furniture and space, we still managed to fit!
We had all our favorite toys and just the same amount of fun and play as we always had. And tidying up never took longer than 10 minutes…
What did I learn from setting up five different playrooms that grew increasingly smaller while still working with the same kids?
I. First of all – Consider their age.
Naturally, smaller kids are most interested in what they see at the moment. Whether it's an expensive toy or a stick on the floor, it will be THE most interesting object just because it's there. They have less concept of the things that aren't in the here & now. So if you pick a toy and wave it in front of their face saying, "Let's give this away because you haven't played with it for a while," you'll probably fail.
So in the age of less reason, I found it easiest to declutter alone. I put away what I knew was unplayed with and took it away from the playroom for a couple of months to see if someone asked for it. Once they did not notice its absence for a long time, it was safe to pass it on. If they asked, I put it back in their space.
As parents, You know the best when you want to include your kids in your decluttering projects. I noticed that past the age of 6, I could start reasoning with the kids and had better success including them with their playroom re-organization.
II. Once you include them, understand them.
Their world is like ours, only condensed to a much smaller area. The adult world is huge – the personal history, the places we've been, the social contacts, the mental realm of ideas, a whole house of stuff – all to hold onto.
Our kid's worlds are still growing, just getting past their room, home, school… It is natural that they, too, hold onto and put meaning to the things occupying their world. The rock from the neighborhood might have the same sentimental meaning to them as your souvenir from Australia to you.
Though reasonable, be compassionate when handling their "trash" not to develop an aversion to decluttering.
Make sure there's a bin in their room that's open and easily accessible so they can throw away stuff regularly when they are done treasuring it.
Observe what they play with and make donation suggestions for the less-used items.
III. Explain decluttering as a positive thing
1) Change the language and make it a winning game instead of a losing game
–> Forcing them to choose the losers and using the "getting rid of" or "throw-away" can be met with resistance. Turn it around. Empty the basket with toys and let them "choose their favorites" and "who's gonna live in the robot basket" instead. It encourages more positive emotions.
2) Let them know where their toys go
–> Explain the process of decluttering: What isn't identified as a "keeper" goes to [….] – ideally your smaller friend, smaller cousin, kids that shop in the charity store.
Tip: Kids love the feeling of growing bigger, so identifying toys for smaller children can be an easy trick. However, avoid manipulating them to get rid of things by making them feel like babies if they wish to hold onto their early toys!
3) Let them have their fair exchange
–> Living in the Netherlands, King's day is in our favor! Encourage your kids to sell their old toys in May and celebrate their first own earnings.
IV. The last but most important lesson: Lead by example and with a relaxed attitude!
Walk your talk, and start with your personal decluttering. Make letting go a visible, regular, and normal part of life. Avoid dramatizing decluttering into either extreme (the "have to get rid of everything now" and the "have to keep everything forever") if you can.
Your RELAXED ATTITUDE and normalization of decluttering will teach them the most… sooner or later, your kids will pick up on it and copy you.
In my professional experience, the most cluttered rooms were a mere reflection of the rest of the house.
Do you include your kids in the toy-decluttering process? At what age did you start?
Do you need more PERSONALIZED TIPS AND SOLUTIONS FOR YOUR PARTICULAR SITUATION?

I offer virtual organizing sessions via 1:1 online consulting!
Check it out if you want tailored strategies, personalized guidance, accountability, and more to aid your home-organizing projects from closets to garages!